Last week I returned to my alma mater The Ohio State University to lead the 3rd annual Women on Fire Day there with 100 young women.
The idea of such a day – where experienced women share wisdom and strategies with younger women — came from the students themselves.
It truly is one of the most rewarding and inspirational days of my year.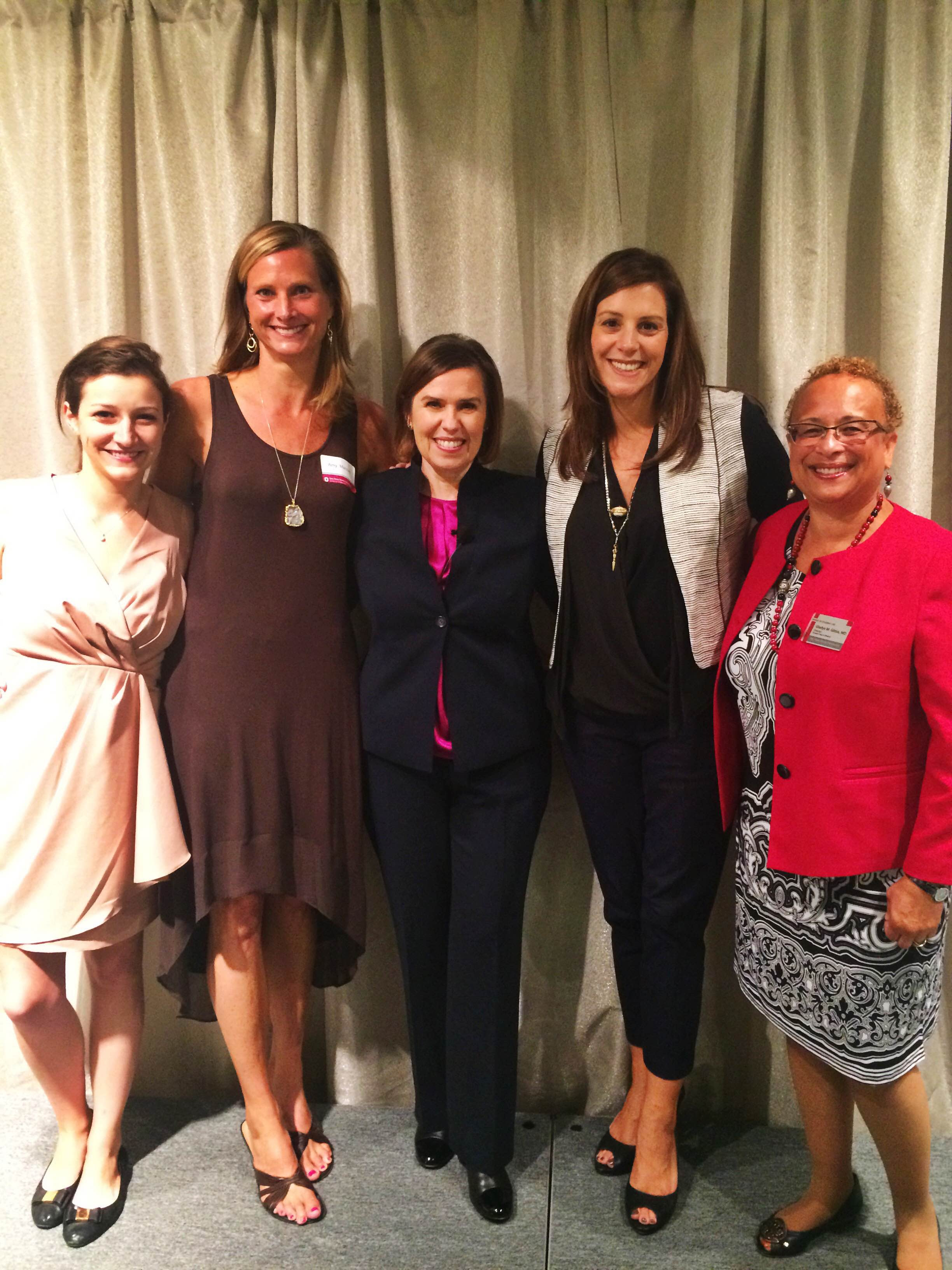 Here I am with this year's panelists of wise women sharing their knowledge: Jordan Davis, Amy Marzluff, Cindy Monroe and Dr. Gladys Gibbs
My keynote talk this time was "What I Wish Someone Would Have Told Me In College."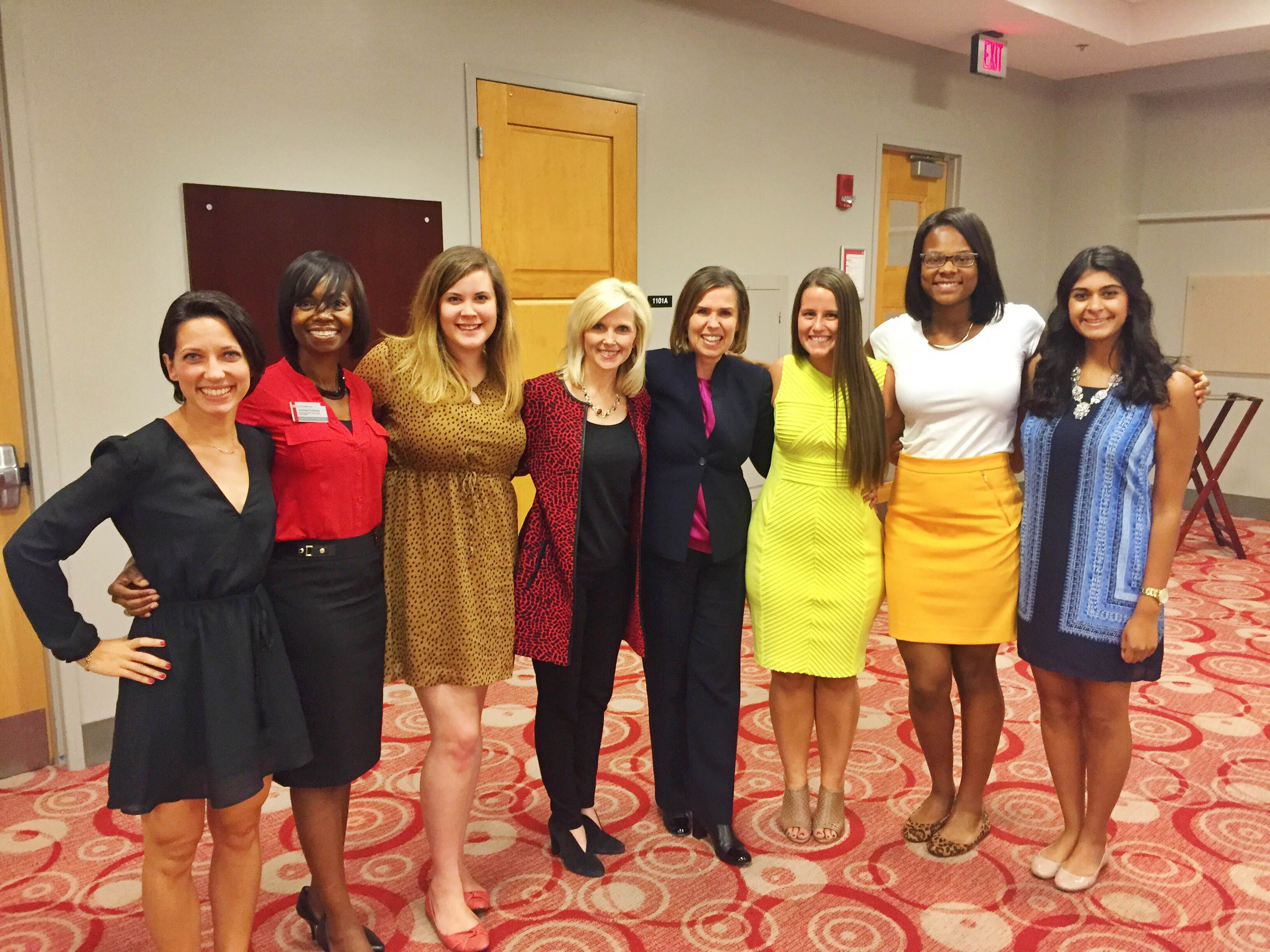 The incredible team who made our Women on Fire day possible: Meredith Schoenberger, Yvonne Dulaney, Ashley Sinram, Tracy Stuck, Molly Pierano, Chelsea Burrell and Neha Patel (Photo by Eve Esch)
I can imagine that you have some powerful thoughts on this subject as well. Here are a few that I shared with OSU students. Did you wish for any of these yourself?
I wish someone would have told me early on that:
You are the CEO of your life
No matter what you do for a living or your position – whether you are married, widowed, divorced or single and whether you work, stay at home with kids or both — you are in charge of your life.
You are responsible for creating your own destiny.
I was in my mid-30s before I learned and accepted that I am the CEO of my life. When I did, a peace and calm came over me.
I realized I wasn't a victim of circumstances.  If I wasn't happy or didn't like something, I had the power to change it!
Your heart will get broken but you will survive
My early boyfriend heartbreaks and girlfriend betrayals were utterly devastating but nothing like the grief from loss of loved ones and divorce that I later experienced over the years.
Sometimes it felt I would die right along with the loss that had occurred. Eventually, I learned that I could survive from loss — and even thrive.
And often loss or heartbreak meant not the ending of something but the beginning of something new – and even even sometimes something better.
Who you are in this world – and what you stand for — is way more important than the way you look
Countless times I held myself back because I thought I was too fat or didn't look right or didn't have the right clothes.
What a waste of energy! It is truly my only regret in life.
I was in my late 30s before I owned who I was in the world and embraced my qualities and why I was here:  to help people express their gifts, strengths and talents.
The more I focused on who I was and how I could help others, the less it mattered how I looked or dressed or whether someone liked me or not.
One of my favorite quotes on this subject came from actress Rashida Jones who said:
"You can't really invest in your looks as your only thing because it's a depreciating asset. It's like putting money into a stock that is going down. Invest in your brain, invest in your talent; those things can appreciate and they get better as you get older."
Find and surround yourself with the greatest people you can to work with and learn from
Pay attention to the quality of people you associate yourself with.
Small-minded people talk about other people; big vision people talk about making the world a better place. Hang with big vision people.
Don't ever think that someone is too big for you to meet or get to know or even work for.  Somebody has to take those jobs in the White House, including being the President!
Don't ever compare yourself to anyone else
Unhappy people compare themselves to others. Happy people compare themselves to the goals they've set for themselves.
Comparing yourself is always a losing battle. Always someone wealthier, smarter, prettier, more accomplished and with better behaved children!
Stay in your own lane and stay focused on your own goals and dreams.
Do not ever let anyone hijack your dreams
When I was a little girl, I poured over National Geographic magazines and dreamed of going to Antarctica.
As an adult, I decided to make my dream come true.  I saved and studied and planned for my trip to Antarctica.
And, here's the response I received from most people:  "Why go there? Wouldn't you rather go to Australia? Why would you pay to be cold?"
This is my dream! I told them.  Go focus on your dreams!
Your job is to stay true to your dreams.
Your dreams are nobody's business but yours. Never let anyone take them away!
So as you look back to the time you were 18-22, and venturing out into the world to make a difference, what do you wish someone would have told you?
Share your comments below. I'd love to hear!
Love,